Two days ago, I hung laundry out to dry. Not exactly a monumental task and certainly no modern innovation. Nonetheless, it was a first for me. The morning air had already begun to warm, the cat was madly purring and curling around my ankles as I struggled with the world's largest comforter.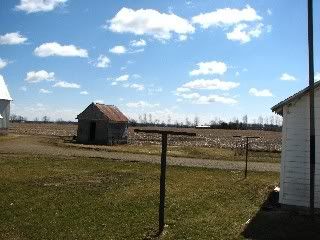 Stretched neatly across two rows of newly strung clothesline and quickly pinned, the gentle breeze began its work of energy-efficient drying. An hour or so later, a sun-warmed, sweet smelling comforter was returned to its home within the linen cabinet. The fresh scent of line-dried fabric is incomparable…no perfume, just clean.


For seventeen years our family resided in a subdivision. A very nice subdivision, with concrete driveways, fenced yards and plenty of restrictions. "No clotheslines shall be erected upon individual property." Of course…how unsightly…we don't want "unsightly" laundry drying in our nice, neat neighborhood. Those were my words. I, like many others (most certainly the neighborhood association) felt this antiquated practice to be "unsightly".

A city girl, from Jacksonville, Florida; I had never even seen a vegetable in its natural state. Canned fruit, canned vegetables, processed meats. Then I married a Kentuckian. His father farmed, his mother canned, and they had a clothesline in the backyard. It was a few short years later that the yearning to return to a simpler life began to tug at my heart.

Though safely ensconced in our subdivision, both my husband and I attempted to create a bit of country living in the suburbs. We planted as large a garden as our 150' x 150' lot would accommodate. We picked strawberries and blackberries for making jam, planted an acre of corn on a friend's property (sharing produce and labor) and canned our own fresh green beans and tomatoes. We dried beef (from a cow we purchased and had slaughtered) and even tried to raise two chickens in the backyard. These chickens both turned out be roosters, and we learned much to our chagrin (and our neighbors irritation), that roosters crow ALL day long. A couple of months later, "Pepper" and "Noodles" were relocated to a local farm.

A clothesline, unfortunately, never became part of our landscaping. Lacking courage, the laundry continued to find its way to the utility room, then to washer and dryer and back again in a never ending cycle.

Two years ago, we left Kentucky and moved to Ohio. The fertile farmland in this beautiful state, provides a daily feast for the eyes. The land is in use…it is not merely decorative. After a brief stint in a small town, we have relocated to a more rural address and couldn't be happier. Two large gardens, boxes of herbs, local farm markets and the prospect of raising a few chickens fill our days with simple pleasures. And a clothesline…let's not forget the clothesline. So…here's to country living and a return to simpler times.